Introducing The Webdock Dashboard
Last updated: June 9th 2023
Introduction
This article gives you a glimpse of how our beautiful dashboard looks, and a brief overview of the functions, and what you could do with the dashboard.
Our Dashboard
A glimpse of how our dashboard looks: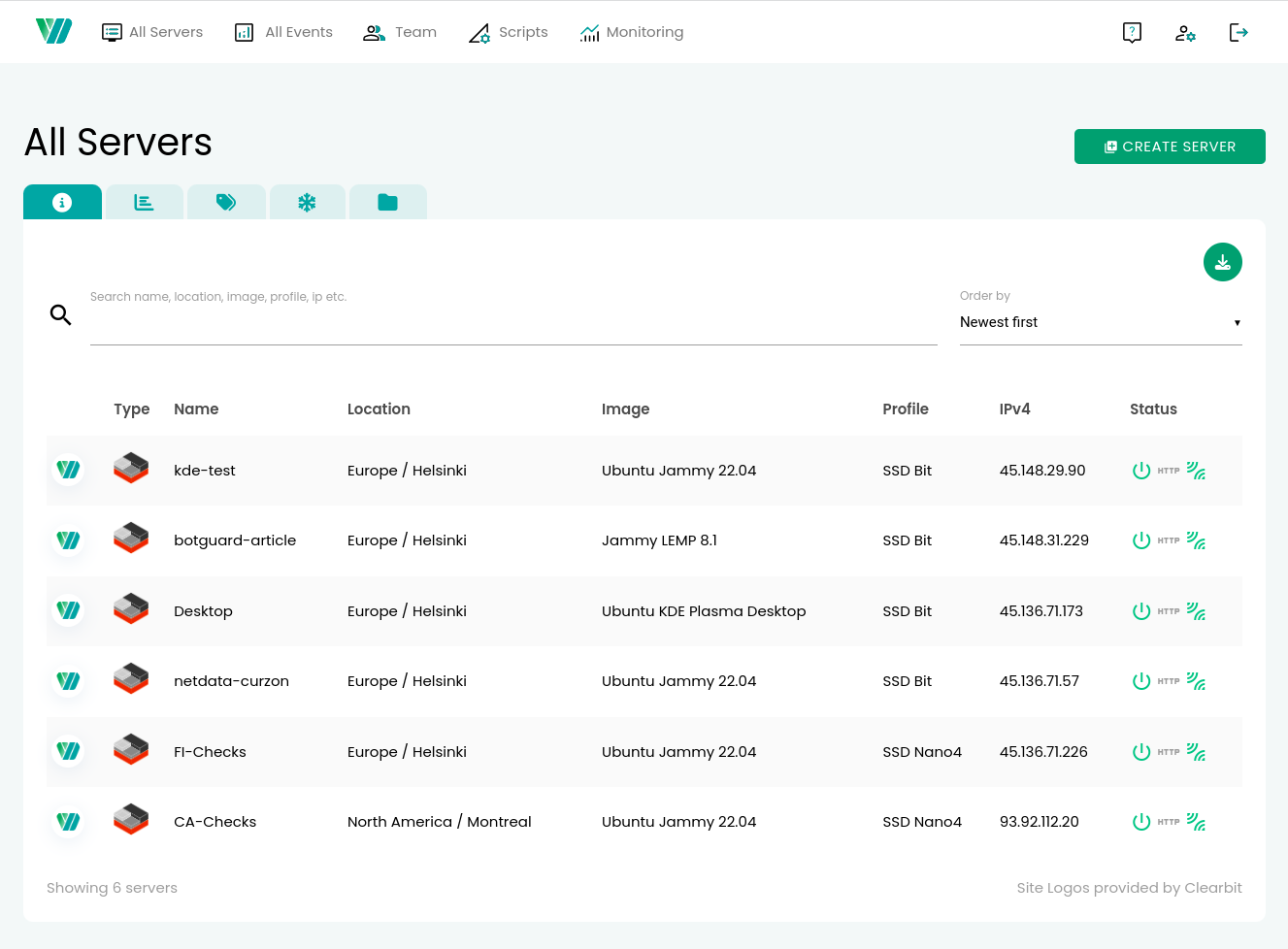 Briefly explaining the things you see in the screenshot.
All Servers
This shows all the servers you have in your Webdock account - across all the server locations. The image your server uses, the profile, IPv4 address, and the state - whether it's running or stopped. You can change the view by clicking on the buttons you see below the "All servers" text to view the resource usage of servers, the metadata, archived servers, and the snapshots of the servers.
All Events
This window shows all the events that happened. If you delete a server, change the name of the server, delete it, take a snapshot of it, or other operations that are performed will all be detailedly shown in the events window.
Team
This screen shows all the team members you invited to your account who can act or make changes to your account on your behalf.

Learn more about teams here.
Scripts
These are server scripts you have in your account that you can run on any server. Want to run the same script on a few of your servers? You can do it from here, from the dashboard without even ssh-ing into your server.
More info on scripts here.
Monitoring
Here you can create monitoring rules to monitor your server. For example, you can add a rule to ping your server. When the ping fails for some reason, you'll be notified by email.
Learn more about monitoring, and how to set it up here.
The Top Right Buttons
Over to the top right, you can see the help button, the account/profile button to view your account information (billing, ssh keys, and others), and the log-out button that logs you out of your Webdock account.
Conclusion
This article provided you with brief information on what you see once you log into the Webdock dashboard.